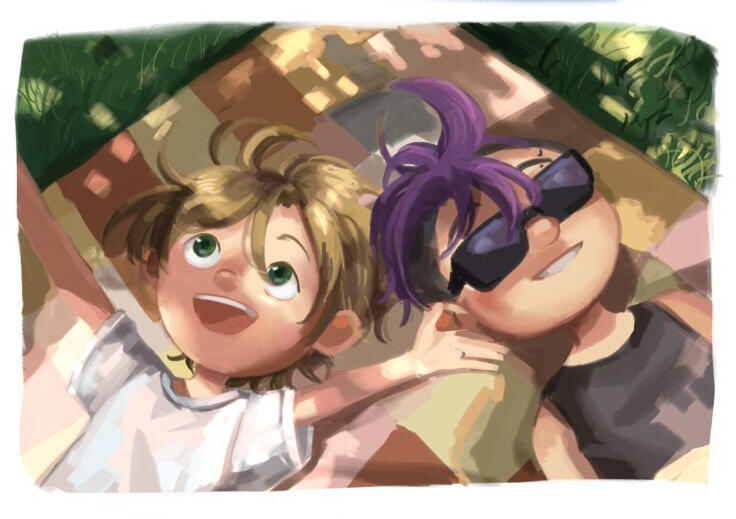 moo!
Hobby Artist | Professional Shorasher

★Likes/Interests★
drawing
digital sculpting (newbie)
making music/noise
martial arts
physics + maths
learning new languages
miffy/cute animals holding knives

★Cartoons★
adventure time
tsuritama
banana fish
the amazing world of gumball
eene
otgw
promare
★Bands/Music★
The Velvet Underground
Nirvana
andymori
Tonick
Queen
Courtney Barnett
カネコアヤノ

FYI...
I pretty much only draw shorash so if you don't like them maybe look awayI will not be posting any nsfw art in public due to safety concernsPlease do not interact if you are under 18I draw a lot of genderswap AUsI don't plan on following anyone on my twitterI have a lot of triggers so I block and mute a lot of people/words. Don't take it personally but please don't reach out to me if you're blocked.ShorAsh are my OCs so everything I draw is canon.

DNI if you...
are a cishet man, like kpop, "stan" any white man, are attracted to any white men, use the word "stan" unironically, are not asexual, have an asian man (who is not you) as dp, are racist, are sinophobic, are ace/trans/bi/homo-phobic, are Christian, like CMBYN, are in anitwt, are misogynistic, are pro-CCP, are "anti-China", ship real people, like Rick and Morty and relate to Rick, go on dudebro reddit, use 4chan, repost art/think it's ok to repost art, like porn, go on any porn site, post NSFW in public, think people hold no responsibility over what they do/like in ficition, think morals don't apply to fiction, make gay/lgbt jokes when you are cishet, identify as "TERF"/"transmedicalist"/"truscum"/"libfem", think you have the right to give anyone an identity label, think you have the right to call anyone's identity "invalid", identify as "MAP" (pedophile) or support them, think "antifujoshi" or "fujo-oppression" is real, identify as "fujoshi" (unironically), hate/dislike shorash